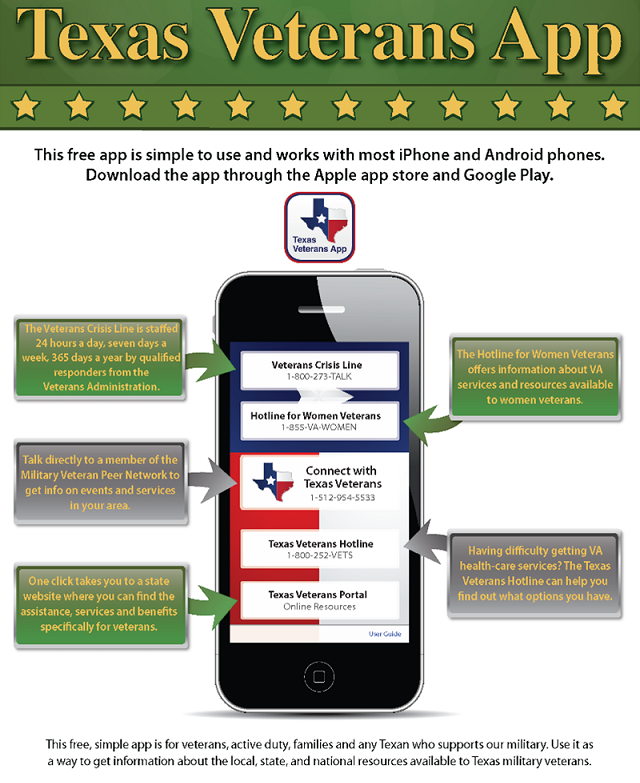 The Texas Health and Human Services Commission (HHSC) has developed a mobile phone app to give Texas veterans quick access to crisis hotlines and other resources.
"The freedoms we enjoy today are made possible by the men and women who serve and sacrifice for this country; it is our responsibility as Texans to do all we can to give back to them," Gov. Perry said. "HHSC's new mobile phone app is an innovative way to help connect our veterans with the resources and services they need and deserve."
The app, which can be downloaded from both Google Play and the App Store, works on most iPhones and Android mobile phones. It provides information about local, state and national resources available to Texas military veterans. By using the application veterans can:
Get direct access to the national Veterans Crisis Line and the Hotline for Women Veterans.

Connect with other veterans in their area.

Quickly find services available to military veterans.
The Veterans Crisis Line is a free, confidential 24-hour a day phone line staffed by qualified responders with the U.S. Department of Veterans Affairs. Veterans, their family and friends can call the crisis line for help with mental health or other challenges faced by veterans transitioning back to civilian life.
The "Connect With Texas Veterans" feature puts the caller in contact with a member of the Texas Military Peer Network, an affiliation of Texas service members, veterans and their families. The network provides veterans with peer support and trusted information about community resources available to them.
"This app is a great way for Texas veterans to instantly access information and connect with other vets," said Suzanna Hupp, HHSC associate commissioner for veteran services. "Every Texas veteran, and everyone who knows and supports veterans, should have this app on their phone."
The app's other buttons connect the caller to the national Hotline for Women Veterans and the Texas Veterans Portal, which includes a comprehensive list of local, state and federal services and benefits.
The app can be downloaded by using the search feature in the Google Play or the App Store or at these links:
Texas Veterans App for iPhones: https://itunes.apple.com/us/app/texas-veterans-app/id838440993

Texas Veterans App for Android phones: https://play.google.com/store/apps/details?id=com.hhsc.texasveteransmobile