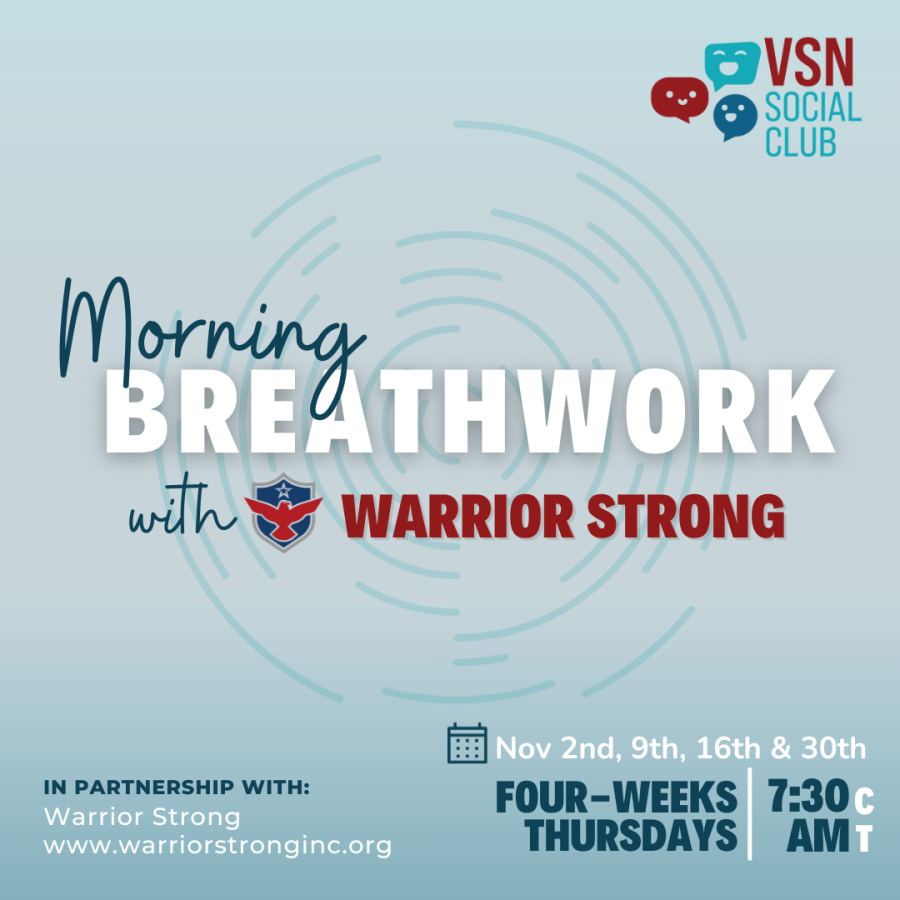 Although breathing comes naturally, did you know that most of the time we only take shallow breaths? Or do you catch yourself holding your breath? Breathing is a skill that can be improved with practice. The technique of focused breathing benefits our circulatory and nervous systems, but it is also proven to decrease stress and anxiety to promote overall better mental health. The VSN is excited to partner with the nonprofit organization Warrior Strong, which offers programs to those seeking community, exercise, mental health relief, and adaptive fitness and sports. This low-commitment class is only 30 minutes and is perfect for anyone wanting to try breathwork for the first time or set a mindfulness discipline.
Thursdays in November at 7:30 am CT (30 minutes)
Nov 2, 2023
Nov 9, 2023
Nov 16, 2023
No Class Thanksgiving
Nov 30, 2023
To be eligible for this group you must be the spouse or partner of an active duty service member or post-service veteran, a caregiver or divorced spouse from a veteran or active duty service member, or an active duty service member or veteran.
Eligibility varies by session, so please check our Eventbrite page to see other social clubs that may interest you.
Once registered, you will be emailed a Zoom invite to join via computer, tablet, or phone. You will also be able to access the Zoom information by viewing the event's Online Event Page. The Online Event Page can be accessed by clicking the "View the event" button in your order confirmation email, OR by selecting the "Access this event" button on the right-hand side of this page. Please find a quiet, distraction-free place to attend the session. If no one attends the session after 15 minutes the leader has the option to cancel the meeting.
Don't forget to subscribe to the VSN Newsletter & follow us @veteranspousenetwork!