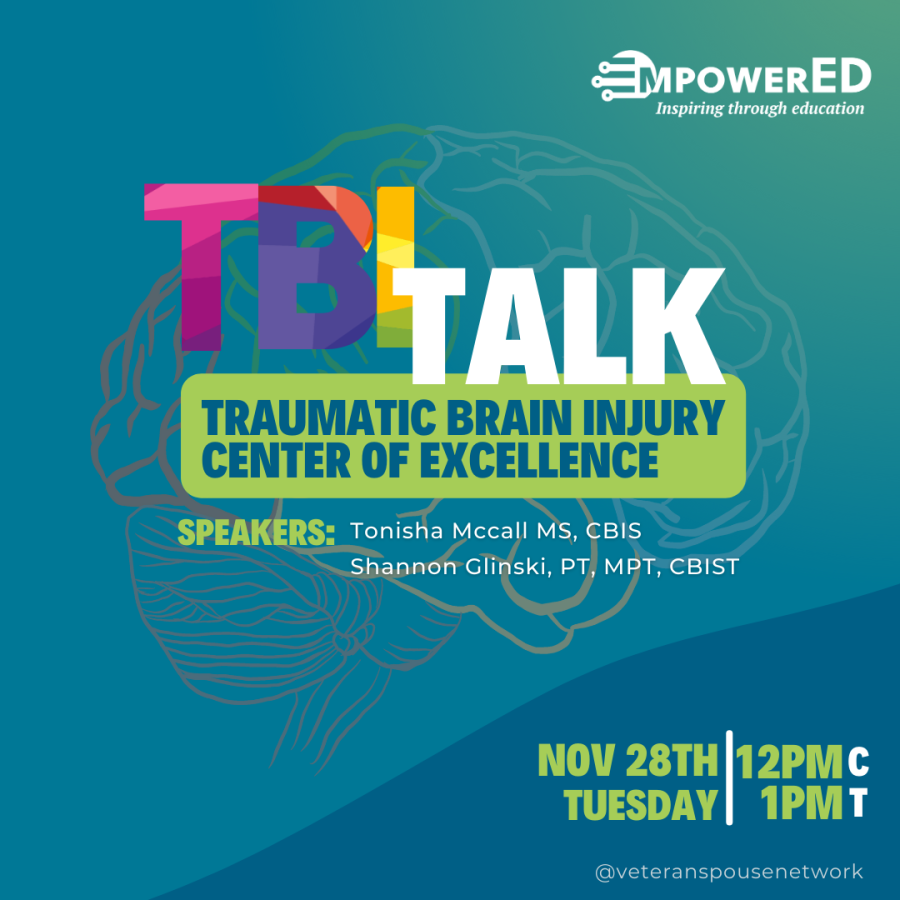 Cost to Attend Event
Free
The nature of modern warfare has led too many of our service members and veterans to return home with traumatic brain injuries (TBI). This medical diagnosis can be complex and layered, and symptoms can be mild to severe. This can make getting a diagnosis and proper treatment, and navigating the impacts of TBI on relationships and family life, challenging, to say the least.
As the loved ones of a service member or veteran, we may take on a caregiver role, or simply just want to better understand how to support our loved one in navigating TBI, and how to care for ourselves amidst the challenges it can bring. We are excited to welcome guest speakers from the Traumatic Brain Injury Center of Excellence (TBICoE) to lead a presentation and conversation about the science of TBI in the military and veteran community, as well as how caregivers and family members can support both their loved one AND themselves as they navigate life with TBI.
Join us for this special presentation on Tuesday, Nov 28, 2023 from 12-1 pm CDT to learn, ask questions, as well as discuss your family's support needs, and receive resources.
Learn about our presenters:
Shannon Glinski, P.T., CBIST is the Regional Education Coordinator at Ft. Campbell, KY. Shannon Glinski joined TBICOE in July 2022 as the Regional Education Coordinator for Ft. Campbell, KY.  She graduated from Northern Illinois University in DeKalb, IL with a Master's Degree in Physical Therapy. Additionally, Shannon is a certified brain injury specialist trainer through the Brain Injury Association of America
Ms. Toni McCall is the TBICoE Educator at Joint Base San Antonio, who covers the San Antonio, Corpus Christi, and Central Louisiana Defense Health Agency markets. Toni is a Certified Brain Injury Specialist and health educator with extensive experience in providing education services in military and civilian healthcare settings. She received both a Master of Science in Health and Kinesiology and a Bachelor of Arts in Psychology from the University of Texas at San Antonio. Additionally, Toni serves on the Board of Directors for a local non-profit organization that supports brain injury survivors and family members.