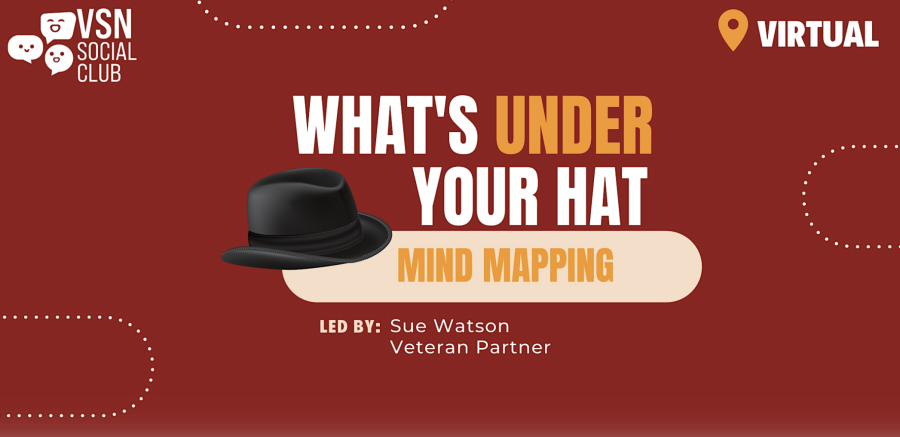 What's Under Your Hat workshops on Wednesdays Nov 1, 8, 15, and an optional event on Nov 29th at 7:30 pm CDT, led by VSN peer leader Sue Watson
Our brain and our mind are fascinating tools. Do you view your mind as a tool that can be sharpened or the brain as a muscle that can be strengthened? Peer Leader, Sue Watson, will walk participants through Mind Map exercises developed by Tony Buzan. Mr. Buzan describes Mind Mapping, like a Swiss Army knife for your brain, that allows you to visually organize and connect your thoughts, ideas, and knowledge in a way that reflects the architecture of thinking. At its core, a Mind Map is the graphical representation of the way our brains naturally process and organize information.
Come out to this event series and learn an enriching and fun new skill through the process of Mind Mapping. Bring your humor and creative mind as we doodle our way to understanding the many hats we wear and the choices we make about how to wear those hats. No art skills are needed.
To be eligible for this group you must be the spouse or partner of an active duty service member or post-service veteran, a caregiver or divorced spouse from a veteran or active duty service member, or an active duty service member or veteran.
Eligibility varies by session, so please check our Eventbrite page to see other social clubs that may interest you.
Once registered, you will be e-mailed a Zoom invite to join via computer, tablet, or phone. You will also be able to access the Zoom information by viewing the event's Online Event Page. The Online Event Page can be accessed by clicking the "View the event" button in your order confirmation email, OR by selecting the "Access this event" button on the right-hand side of this page.
Session one: THE HATS WE WEAR
Using a line and curve you can make 1,000 symbols
How to Mind Map
Homework ( Started during the session) Mind Map your hats
Session two: SHARE IF YOU CARE / Enhance your Mind Map
A SIGNIFICANT HAT
Homework
Mind-map a significant hat
Session three: ECONOMICS OF YOUR HATS
Share if you care
Principal of economics: Choosing is refusing
Diagram opportunity cost
Homework: Mind-map a new hat
Don't forget to subscribe to the VSN Newsletter & follow us @veteranspousenetwork!