Monday – Friday 8:00 am – 5:00 pm Extended hours available for events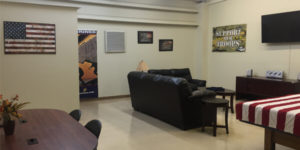 The El Paso Veterans One Stop Center in Northeast El Paso is located in the heart of the city with the highest concentration of veterans in the community. The "one-stop" concept was created to help veterans and their family's access support services at a centralized location.
These agencies at the center include programs such as The Veterans Business Association, The Military Veteran Peer Network, DAV Chapter 187, Grand Canyon University and National University. Along with these organizations, the Veteran One Stop can provide Veterans, dependents and surviving family members with referrals to partnering agencies who also provide supportive services.
This program is supported by grants from the Texas Health and Human Services Department.