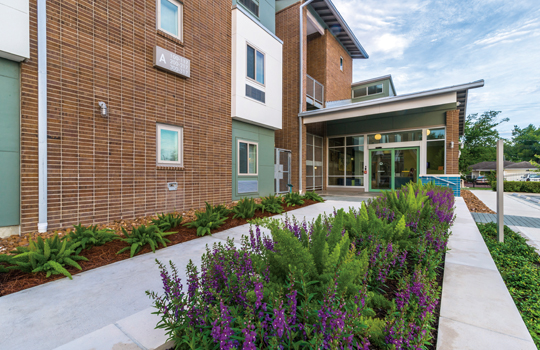 Our Mission
New Hope Housing's core purpose is to provide life-stabilizing, affordable, permanent housing with support services for people who live on limited incomes. By offering a model of excellence in high quality housing + services, our vision is to become a permanent institution serving Houston's most vulnerable citizens.
Our History
New Hope was founded with the conviction that a crisp, clean external environment facilitates internal change. We began in 1993 to develop and operate single room occupancy (SRO) efficiency apartment housing and are widely recognized as establishing the model for SRO housing in the State of Texas.
Today, New Hope is an award-winning organization and the pioneer in the effort to build affordable SRO housing in Houston. We are fully dedicated to offering more than residents might expect from a SRO dwelling that leases for approximately $445 per month, including free utilities, cable television access, and on-site support services.
Since inception, New Hope has raised more than $80MM to support its mission. Of that sum, the original $1.25MM in seed money was raised by the People of Christ Church Cathedral-Episcopal, providing the impetus to establish SRO housing in Houston. This impetus laid the foundation for New Hope to provide quality supportive SRO housing to more than 8,000 people, many who ultimately transition to market-rate housing or reconnect with family.
New Hope currently assists individuals living alone on limited or fixed incomes who struggle to survive, especially in today's uncertain economic conditions. Without permanent SRO housing that fosters a safe and nurturing environment, these women and men would be literally homeless or living in severely substandard conditions. Our residents include: veterans, the elderly, the chronically ill, part time students, people with cognitive and physical impairments, those overcoming substance abuse, the working poor making as little as $7.25/hour, and the formerly homeless. History shows that New Hope's residents' annual incomes typically are ~$13,000 (approximately 70% of our resident population). More than 60% of our residents are formerly homeless and almost 70% have a physical or cognitive disability—direct indicators that New Hope serves the most vulnerable and at-risk citizens.
We have a proven business model for developing debt-free SRO properties that operate in the black, with rental income covering building operating costs and a long-term replacement reserve. New Hope has contributed significantly to the community of organizations working to revitalize Houston's inner city by providing a practical and proven solution to the affordable housing crisis.
New Hope is the best example of the private sector working with the public sector to meet Houston's critical housing needs.