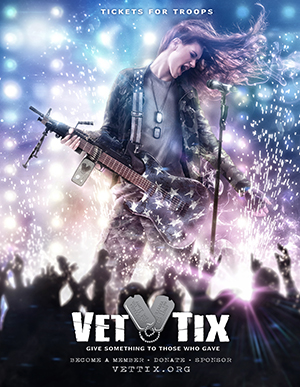 The Veteran Tickets Foundation is a non-profit, tax-exempt organization dedicated to giving back to those who gave us so much. We team up with major sports teams, leagues, promoters, organizations, venues and everyday ticket holders to provide free and discounted tickets to the more than 26 million Veterans and Active Duty Military in the United States.
Our Mission
Give without prejudice FREE tickets to all Veterans, Active Duty Military and their families as a way of saying Thank You!
Purpose
Give something to those who gave. Amplify gratitude by giving Americans the opportunity to say thank you to all Veterans and Active Duty Military via enduring, ongoing and tangible expressions of appreciation.
Core Values
Fun - Enjoying what we are doing is paramount to the continued success of VTF's efforts.
Integrity - Integrity and ethics are woven into the core of VTF.
Loyalty - Unquestioned loyalty to our Veterans, Active Duty Military and their families provides the foundation for what VTF is as an organization
Review the TERMS AND CONDITIONS that govern the use of Veteran Tickets Foundation. 
Do you qualify? 
Register with the Veteran Tickets Foundation HERE.
See the events that are taking place in TEXAS. How can you help, volunteer, support? There are many ways to give back to those who serve or have served you.  Like any charitable organization or non-profit group, The Veteran Tickets Foundation 501c(3) relies solely on the generosity of the public and our constituents for donations and financial support in carrying out the "Mission of Acknowledgment and Recognition."
Veteran Tickets Foundation is an all-volunteer organization. All donations and contributions directly supports getting Veterans and Active Duty Military with free or discounted tickets to all events.